MOSUL CRISIS
Winter can be magical. A season full of festive fun. But for the hundreds of thousands displaced by the battle for Mosul, it's become a nightmare. They desperately need your help.
ESCAPING DARKNESS APPEAL
ISIS has kidnapped, raped and tortured thousands of women and girls leaving them deeply traumatised. AMAR is providing those who have escaped with expert psychological care. Donate Today
Supporting Iraq's Historic Marshes
AMAR's health and education initiatives help challenge the effects of poverty in marsh communities. Learn more.
Bringing medical care to tens of thousands
Our medical teams are reaching Iraq's most vulnerable communities.
Top of the class
Vital education and training programmes throughout Iraq
Protecting women
AMAR has programmes to empower and improve the lives of women across the Middle East
AMAR's model
Employs local people to deliver local resources to where they're needed most
AMAR IS AN AWARD-WINNING CHARITY THAT WORKS IN THE MIDDLE EAST, BUILDING AND IMPROVING THE LIVES AND LIVELIHOODS OF SOME OF THE WORLD'S POOREST AND MOST DISADVANTAGED PEOPLE.
FOR THE LAST 24 YEARS WE HAVE PROVIDED PROFESSIONAL HEALTH AND EDUCATION ON A SUSTAINED AND LASTING BASIS, AND TODAY WE DELIVER TENS OF THOUSANDS OF MEDICAL CONSULTATIONS EACH YEAR.
SINCE JUNE 2014, AMAR TEAMS HAVE BEEN WORKING THROUGHOUT IRAQ TO HELP MORE THAN 3.4 MILLION INTERNALLY DISPLACED PERSONS (IDPS) FORCED FROM THEIR HOMES BY THE ISLAMIC STATE (ISIL) INVASION IN THE NORTH AND WEST. WE NOW BUILD, EQUIP, AND RUN PURPOSE-BUILT HEALTH CLINICS FOR IDPS, EMPLOYING LOCAL PEOPLE AND USING LOCAL RESOURCES WHEREVER POSSIBLE.
Tweets
#Iraq: #Humanitarian snapshot (as of 31 December 2016) - bit.ly/2jGjZp0 #MosulAid pic.twitter.com/sq5y4I6hXw Retweeted by AMAR Foundation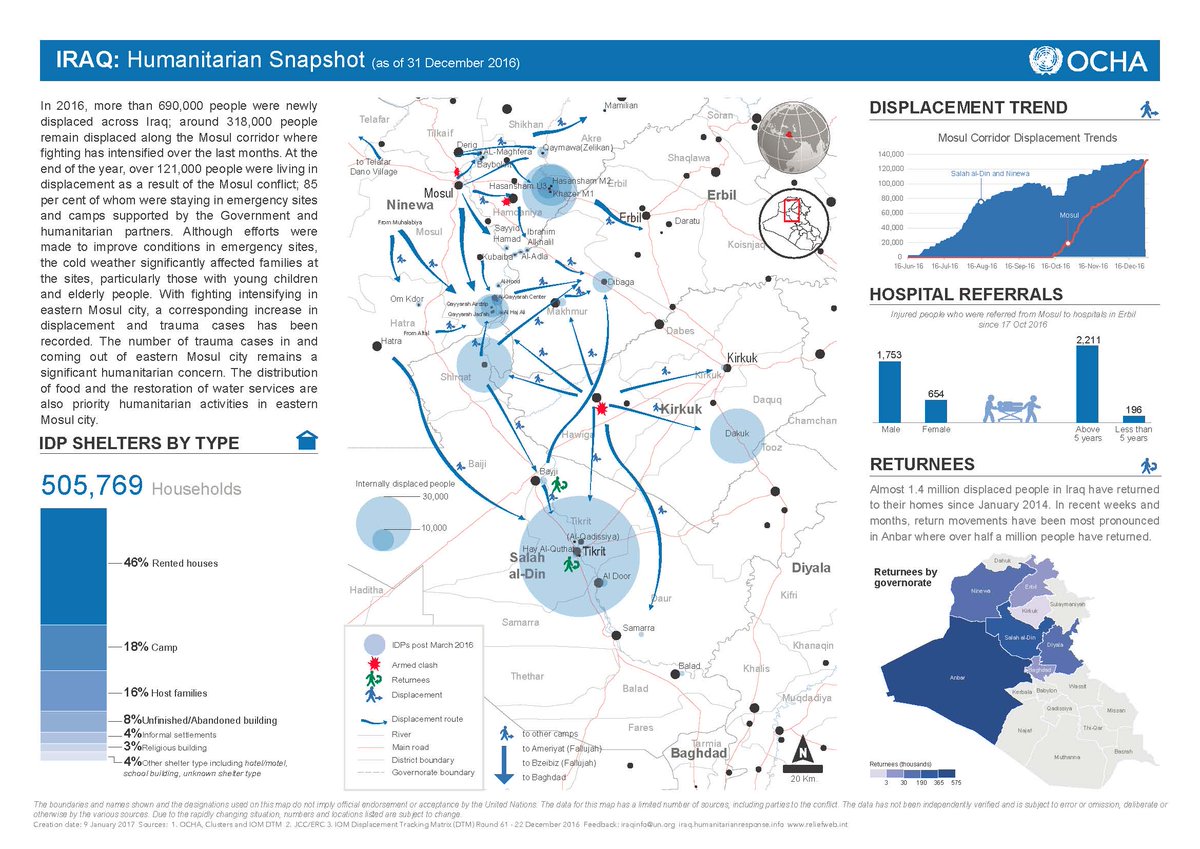 Britain's biggest selling daily newspaper has included AMAR in its prestigious Christmas Appeal. The Sun's #SmilesAtChristmas campaign is highlighting our work and that of three other domestic UK charities and all will benefit …
"Daesh [ISIS] soldiers constantly used to pull out clumps of my son's hair," says Nadiya, speaking about her eighteen-month-old son Ali from a hospital bed in Northern Iraq. "It was just for amusement, they thought it was really funny…
The health system in the newly liberated Ramadi region of Iraq has collapsed and conditions for patients are appalling. That is the view of a senior AMAR assessment team that has just returned from Anbar province.